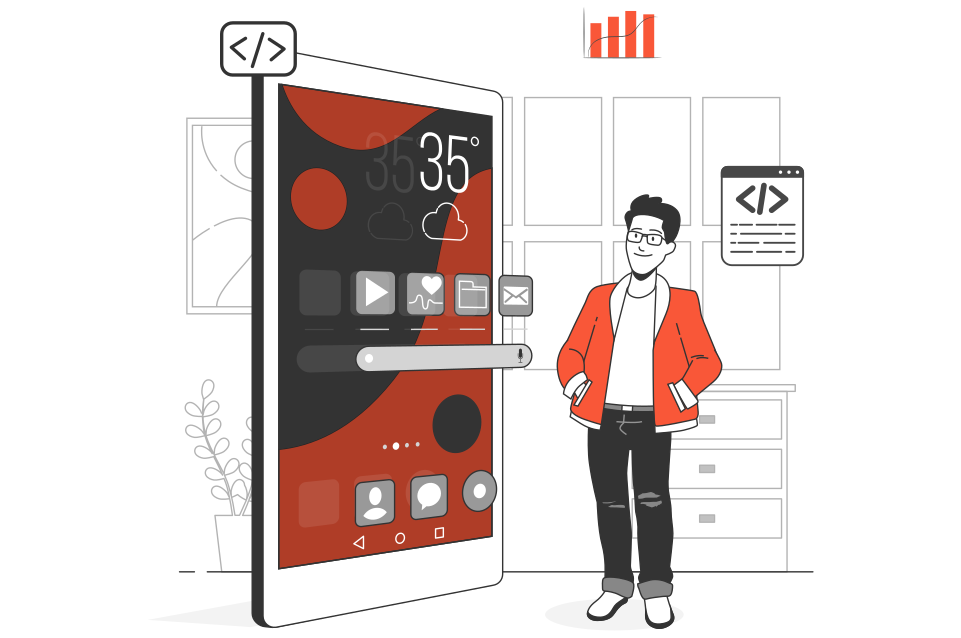 Well-Crafted Hybrid Apps for Your Business
Aperoltech – A top-notch hybrid app development company develops hybrid applications that are easy to promote quicker and more effectively across channels. The best mobile app development solutions are offered by Aperoltech, a top hybrid app development company, to assist businesses connect with untapped client bases, drive a ton of conversions, and maximize return on investment.
With our hybrid mobile app development services, you may sell across all cross-channel at once and save your marketing costs while getting high-quality hybrid applications to market more quickly on major mobile application platforms.
Get High-Performance

Hybrid App

Development Services
Aperoltech. is a well-known hybrid app development agency. We have experience creating more than 100 hybrid mobile apps using cutting-edge technology. We are able to build scalable hybrid mobile apps with the best performance because of our years of experience.
With an experienced team, we are among the top Indian firms developing hybrid mobile apps. We provide end-to-end hybrid platform app development services, starting with basic planning and ending with final deployment.
Our Hybrid Mobile App Development Solutions
Hybrid App UI/UX Designing
Our team of expert hybrid application developers creates the blueprint of your business application design as per your requirement and keeping in mind the buyer's persona.
Quality Assurance and Testing
After the development of the application, our expert testers test the application on various parameters like code, performance, user-interface, and user-experience.
Custom Hybrid App Development
We can help you build your hybrid application tailored according to your requirements. Just discuss your requirements with us and get the most innovative and feature-rich application developed.
Our expert hybrid app developers have experience in integrating new features to the client's existing application and also migrating the native applications to the hybrid framework.
It Is Not Only Being Technology Experts. Our Promises Are Real! When You Working With Us, You Are Not Taking A Risk!
Scalable and FlexibleFeaturing the SDK tools, our applications be it android, iOS, or hybrid, we make your apps easy to survive in the competitive edge.

Trusted by peopleFor our established and reliable app development solutions, we our trusted by people all across the globe.

Easy DevelopmentOur applications are built in java which uses a multitude of libraries thereby making app development easy and quick.
Fast DeploymentWe can help you deploy your applications easily and quickly on Google Play Store or App Store.

Customizable UIApplications developed at Aperoltech are easily customizable and manageable for better business productivity.

High ROIThe applications developed at Aperoltech, brings possibilities of higher ROI with very less investment.
Guaranteed Customer Satisfaction

Applications for All Platforms

Have an idea in mind? We would be glad to take your hybrid app idea forward for development. Get in touch.

We will respond to you within 24 hours.

We'll sign an NDA if requested.

You'll be talking to product and tech experts (no account managers).
Frequently Asked Questions
What is Hybrid App Development?
A hybrid app is a combination of HTML5, CSS3, and Javascript. Hybrid apps are not dependent on the platform and can be used on any operating system. We do it better than any other hybrid app development company.
How to build your first hybrid mobile app?
The first step to building your first hybrid mobile app is creating a website. After you create a site, you can use a platform like PhoneGap or Titanium to convert the site into a mobile app.
How much does it cost to build a hybrid app?
The cost to build a hybrid app will vary, depending on the platforms you need to support, your level of customization, and whether you are using a hybrid framework or building the app yourself.
How long does it usually take to create an app?
Creating an app is not a one-time process. Most successful apps are constantly updated to meet the increasing demands of users.
Which are the best hybrid mobile app development company tools?
Tools to speed up hybrid mobile development are PhoneGap, Appcelerator Titanium, AppGyver, and Apache Cordova.