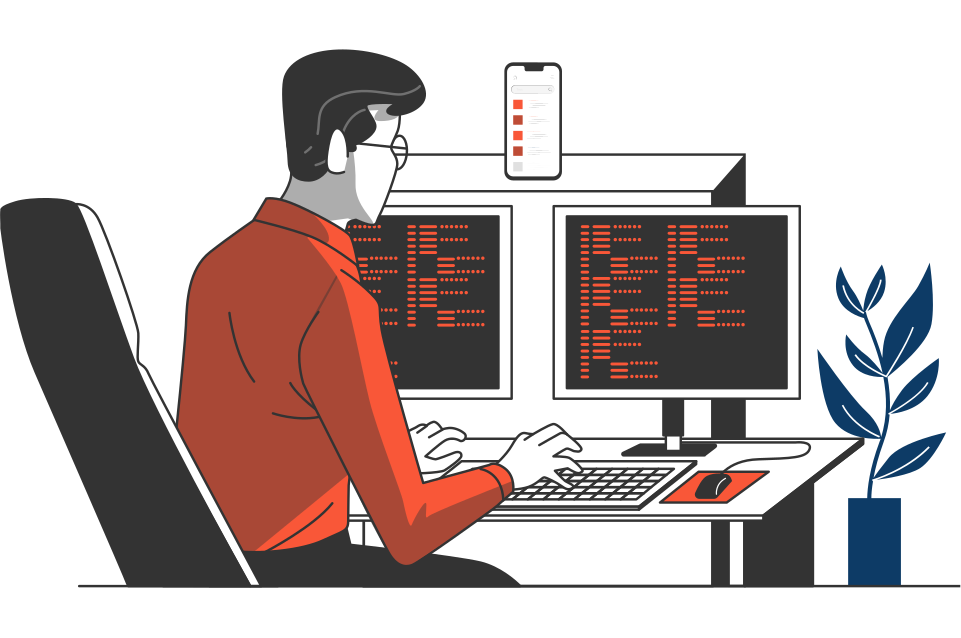 Top-notch iOS App Development Services
Want to choose an innovative and highly functional iOS app development to suit your needs as a business? Your next-generation iPhone/iOS app can be developed and released at Aperoltech using cutting-edge technologies.
Being a top iPhone app development company, we make sure to create iOS applications that are fully feature-rich for both startups and businesses. Get in touch with us right away to discuss your needs and receive some inventive, custom iOS app solutions.
Enhance your Business with

iOS App

Development Atapreroltech
Find the top iPhone app development agency when it comes to producing the best iOS app for your organization. If you already have a vision, our team of professionals can assist you in turning it into reality. With our top-notch iPhone app development services, we can provide our clients with any form of iOS solution they require.
Our iPhone app developers are proficient in both hybrid programming languages like React Native, Flutter, and Ionic as well as native programming languages like Swift and Objective-C. Considering contracting with a group of knowledgeable iPhone app developers to create a native iPhone app? Get in touch with us to know more about our iOS mobile app development services.
Our iOS App Development Solutions
We have expert UI/UX iOS App developers who will help you incorporate the best user-experience to your iOS applications and that too with innovative and beautiful designs.
Custom iOS App Development
Ofcourse, every business has varied requirements. So, to make you stand out in the market, our iOS app development services are totally customizable based on your requirements.
iOS Application Migration
If you have an application that is developed on any other platform than iOS and you want to migrate it to iOS, Aperoltech has expertise in seamless migration too.
Apart from development services, our testing services are also recognized all across India. We do not deliver any of our applications without testing it thoroughly and making it bug-free.
It Is Not Only Being Technology Experts. Our Promises Are Real! When You Working With Us, You Are Not Taking A Risk!
Scalable and FlexibleFeaturing the SDK tools, our applications be it android, iOS, or hybrid, we make your apps easy to survive in the competitive edge.

Trusted by peopleFor our established and reliable app development solutions, we our trusted by people all across the globe.

Easy DevelopmentOur applications are built in java which uses a multitude of libraries thereby making app development easy and quick.
Fast DeploymentWe can help you deploy your applications easily and quickly on Google Play Store or App Store.

Customizable UIApplications developed at Aperoltech are easily customizable and manageable for better business productivity.

High ROIThe applications developed at Aperoltech, brings possibilities of higher ROI with very less investment.
Guaranteed Customer Satisfaction

iOS Experts at Your Service

Feel free to book a call with us. We would be glad to hear your iOS App idea and offer you professional assistance.

We will respond to you within 24 hours.

We'll sign an NDA if requested.

You'll be talking to product and tech experts (no account managers).
Frequently Asked Questions
What is ios app development?
iOs app development is the process of making applications for Apple devices, such as iPhone, iPad, Apple Watch, Apple TV, etc.
What is the best platform for apple iOS app development?
Ionic is the best platform for ios app development. It's an open resource and free. It uses Angular and web technologies to make development faster and easier.
How much does ios app development cost?
The price depends on many factors (the number of pages, functions, etc.). You can contact our ios app development agency to get the exact quote.
Which language is used for iOS app development?
Objective-C is the native programming language of iOS, which is Apple's operating system for its iOS devices (iPhone, iPod Touch, and iPad). Objective-C is a superset of C; it provides object-oriented capabilities and a dynamic runtime.
How long does it take to develop iOS apps?
The answer depends on the complexity of the app. Typically, it takes eight weeks to develop a good iPhone app. All the steps include planning, programming, testing, developing, etc.